SIP Trunking
What is a SIP Trunk? SIP Trunks allow business phone systems (on-premise PBXs) to be connected to the internet for inbound and outbound calling. SIP Trunks are delivered over IP from broadband connections using a protocol called SIP; replacing traditional POTS, T1/E1 or ISDN lines. Customer phone numbers, called DIDs, are linked to the SIP and very often can be ported from older services.

Patton SIP Trunking Solutions
Patton delivers SIP trunking solutions to Service Providers and business customers to deliver a superior All-IP migration experience.
Patton SmartNode eSBC and VoIP Gateway products provide service demarcation between the enterprise network and the service provider's SIP trunks. The units perform SIP protocol mediation, legacy device integration, media handling, interoperability, and security services.
The Patton Cloud leverages SmartNode edge devices to empower Service Providers to deploy, provision, manage, monitor, secure, alert, troubleshoot, analyze, and optimize SIP Trunking Services.
Patton's SIP Trunking solutions benefit both providers and SIP trunking customers with fast, simple, and reliable deployments, and enable continued use of existing PBX and IP-PBX systems.
Featured Solutions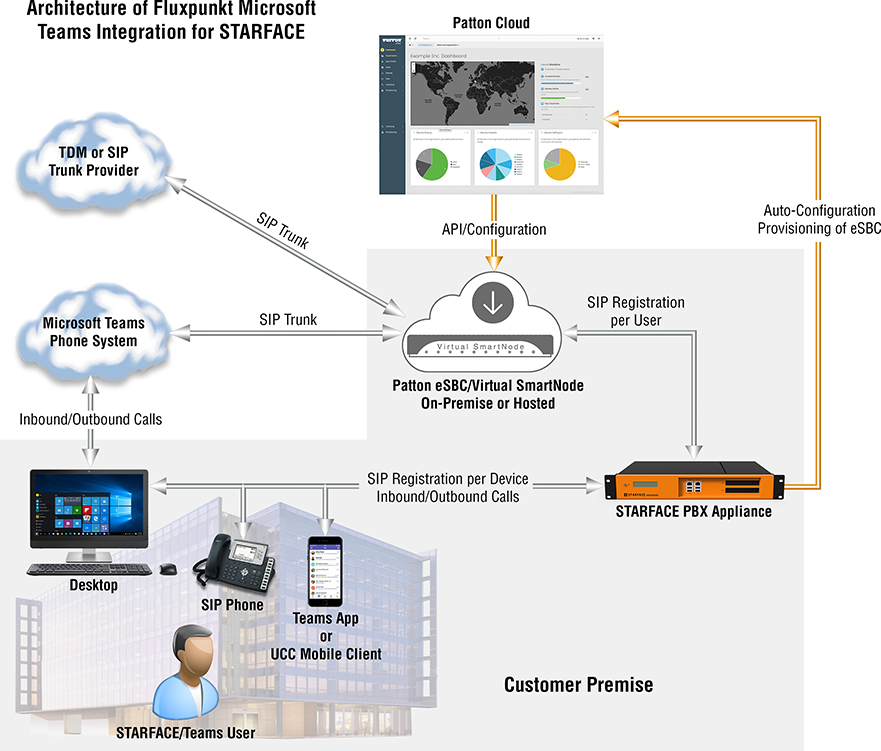 SmartNode eSBCs seamlessly integrate Microsoft Teams with Voice Trunks and STARFACE PBX Telephony ServicesMicrosoft Teams, including the Phone System application, rely on external telephony services– such On-Premise or cloud-based PBX systems and SIP Trunks– to connect and deliver telephone services to the Teams application.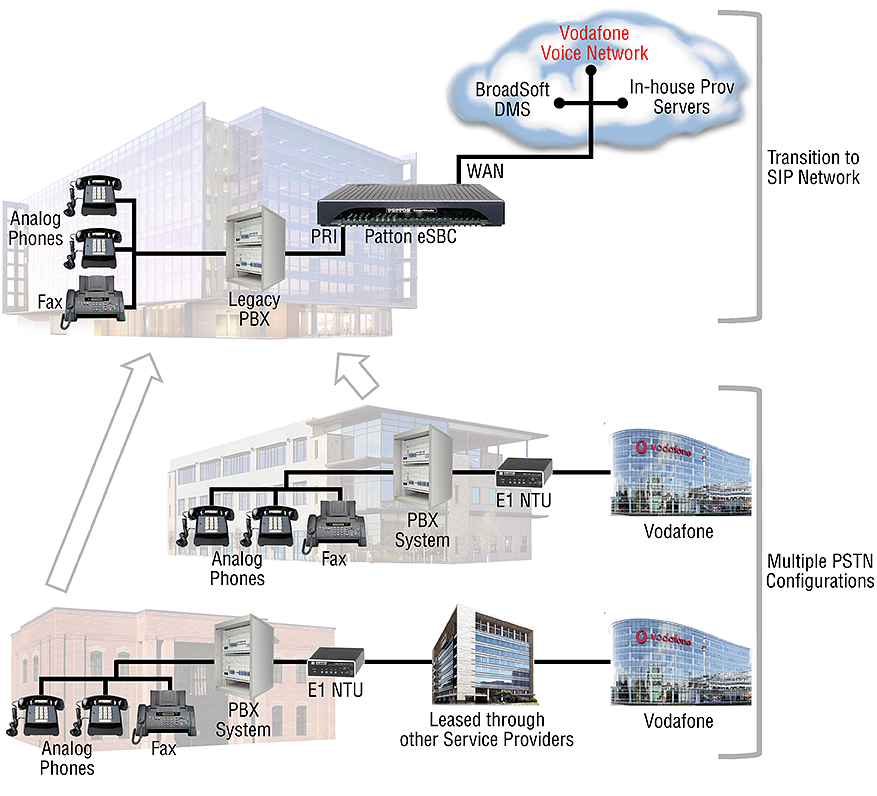 Vodafone: A Phased, Zero-Touch Migration Strategy from ISDN to All-IP VoiceUsing Patton eSBC devices, Vodafone Next Generation Services (VNGS) devised a transition strategy enabling existing on-net and off-net subscribers of Vodafone NZ to migrate at a controlled pace from ISDN to SIP Trunking with automated provisioning and minimal service disruption.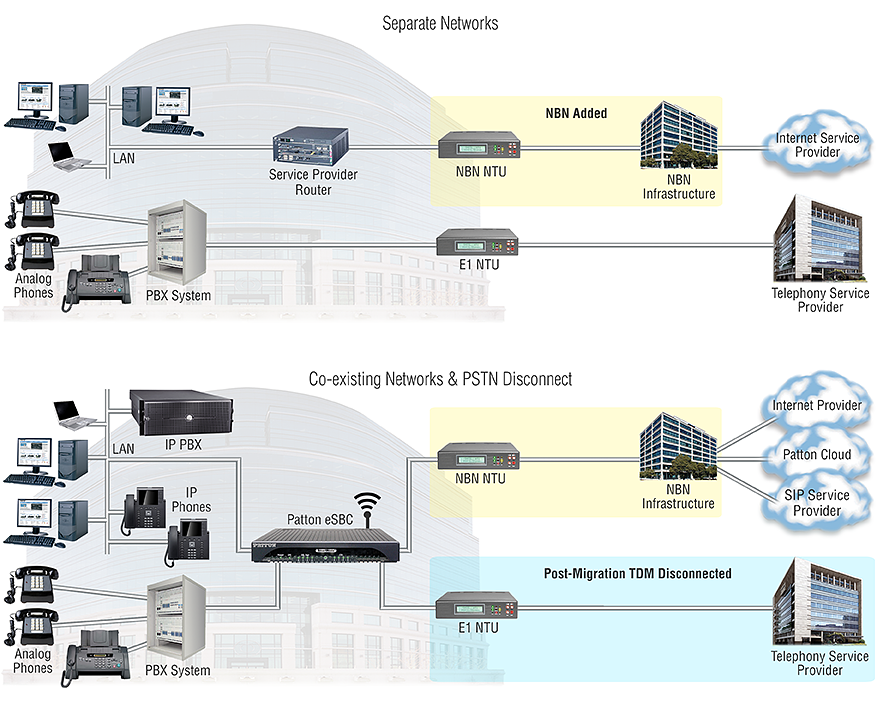 Addressing the Challenges of NBN Migration & Converged Telephony/UC/UCaaS in AustraliaMoving subscribers from TDM to SIP Trunking or UCaaS over the NBN poses significant challenges to providers. Cost, complexity, interoperability, service porting, and user-experience are the key barriers to migration.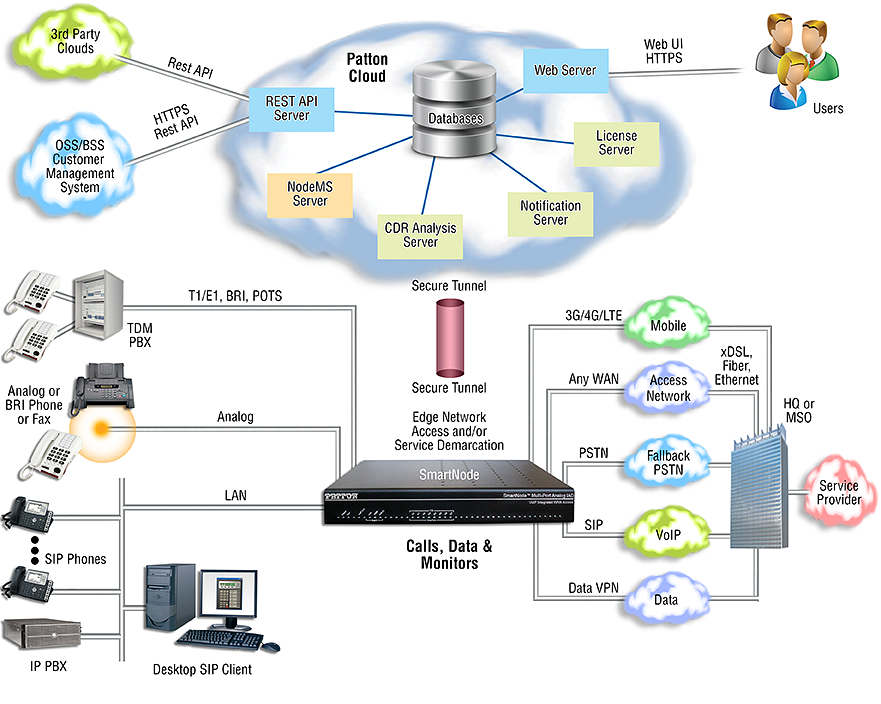 Delivering SIP Trunks Using BroadSoft (now Cisco) Profitably & Efficiently with the Patton CloudWhether via BroadWorks or BroadCloud, delivering SIP Trunks profitably means Service Providers must achieve efficient CAPEX and OPEX by controlling service quality, security, reliability, manageability, maintainability, and interoperability at the Edge.

Patton and Lydis: Subscribers in the Netherlands Who Depend on ISDN Trunks Need Not Fear the End of ISDN ServicesAll kinds of ISDN-dependent voice-integrated systems are installed in the Netherlands. The PBX platforms deliver Telephony, Security, Intercoms, Paging, and Emergency Notification. Those systems can't just be forklift upgraded to all IP just because ISDN trunks are End-of-Life in the Netherlands.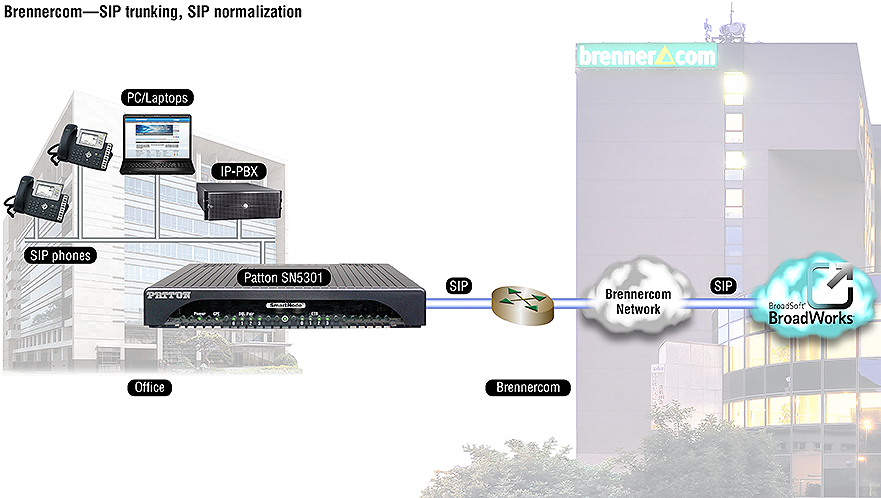 SmartNodes ensure Brennercom SIP Trunking Quality, Security and EfficiencyBrennercom use SmartNodes to deliver UC-Services with BroadSoft with unrivaled efficiency, quality, reliability and security.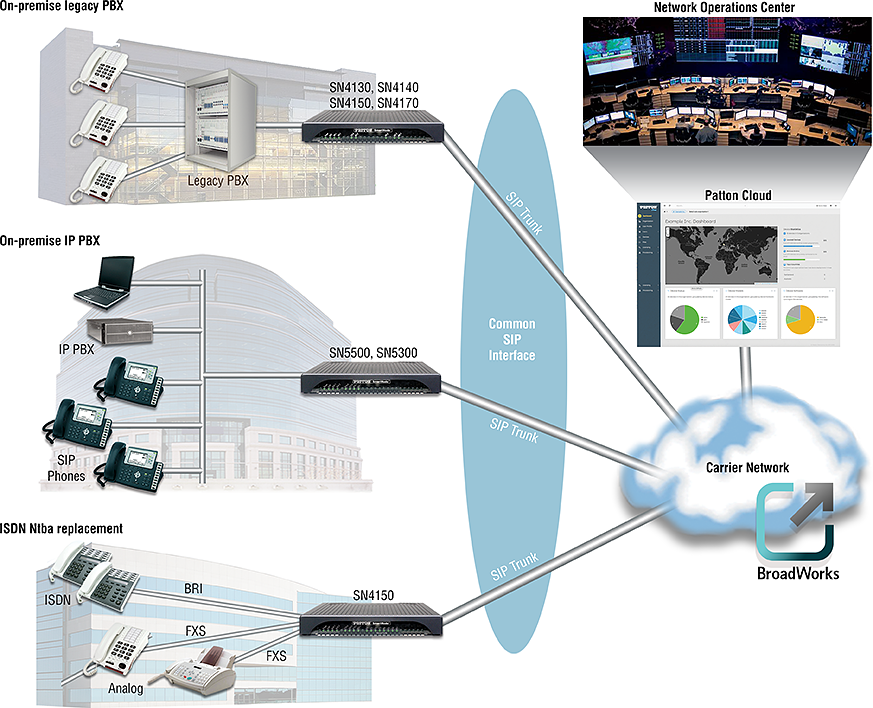 GO Malta uses SmartNodes with the Patton Cloud to deliver SIP Trunks Securely and Efficiently with Low CAPEXGo Malta uses SmartNodes in conjunction with the Patton Cloud to deliver SIP Trunking with unrivaled cost, efficiency, quality, reliability, manageability and security.Related Solutions
Dolby Pro-Audio Conference Phone with Dolby Voice or ANY PBX or Conferencing ServicePatton SmartNode eSBC enables secure connections to trunks, on-premise PBXs, or hosted call control platforms, as well as Dolby Voice services empowering best-in-class audio conferences.Pitney Bowes: IoT Infrastructure for Dial-Up Postage Meter ConnectivityWhen AT&T announced the end of their dial-up modem access services, Pitney Bowes needed to figure out how to maintain connectivity to thousands of postage meters with embedded dial-up modems.Connecting DECT Phone Systems to VoIP NetworksPatton SmartNodes use a High Precision Clock to enable DECT Phone Systems to connect to and interoperate with SIP Trunks and VoIP PBX Systems, including on-premise and Cloud-based systems.Addressing the needs of government and law enforcement agencies with surveillance of voice communicationProviding lawful interception is a challenge for communication service providers to meet mandatory legal compliances. Compliance with transnational communication, service interruption, and private network complexity are the key barriers to provide required services.Other Resources

About Session Border Control
Unified Communications Products
VoIP Product Guide
Millennial-Generation Converged CPE
Edge Orchestration Solution
Patton Cloud Data Sheet