Hosted Telephony and UC
What is Hosted Telephony? Hosted Telephony is a service where a business phone system or PBX is delivered as a Cloud Service from a Provider data center. Hosted Telephony is sometimes called Cloud Telephony, Hosted PBX or Hosted VoIP.

What is UC? UC stands for Unified Communications (UC) and describes the integration of enterprise communication. "Unified" refers to bringing together of Instant messaging (chat), presence, voice (including IP telephony), mobility, audio, web & video conferencing, desktop sharing, data sharing (whiteboards), unified messaging (integrated voicemail, e-mail, SMS and fax). UC is not necessarily a single product, but a set of products that provides a consistent unified user interface and user experience.
What is Unified Communications as a Service (UCaaS)? UCaaS is a cloud service for "unified" or "converged" communication and collaboration. UCaaS is like Hosted Telephony, but includes other services also referenced in UC such as presence, messaging, web meetings, file sharing, collaboration and video conferencing.
Patton Hosted Telephony and UC Solutions
Patton's Hosted Telephony and UCaaS solutions enable Service Providers and Business customers to efficiently deliver reliable hosted services for a superior user experience.
Patton SmartNode eSBC and VoIP Gateway products provide edge and on-premise services for hosted services. Services include legacy on-premise system and device integration & interoperability, service quality monitoring plus automated survivability with PSTN failover and multi-WAN wired-or-wireless redundancy.
The Patton Cloud leverages SmartNode edge devices to empower Service Providers to deploy, provision, manage, monitor, secure, alert, troubleshoot, analyze and optimize Hosted Telephony and UCaaS Services.
Patton's Hosted Telephony and UCaaS solutions benefit both providers and SIP trunking customers with fast, simple and reliable deployments and enable continued use of existing PBX and IP-PBX systems.
Featured Solutions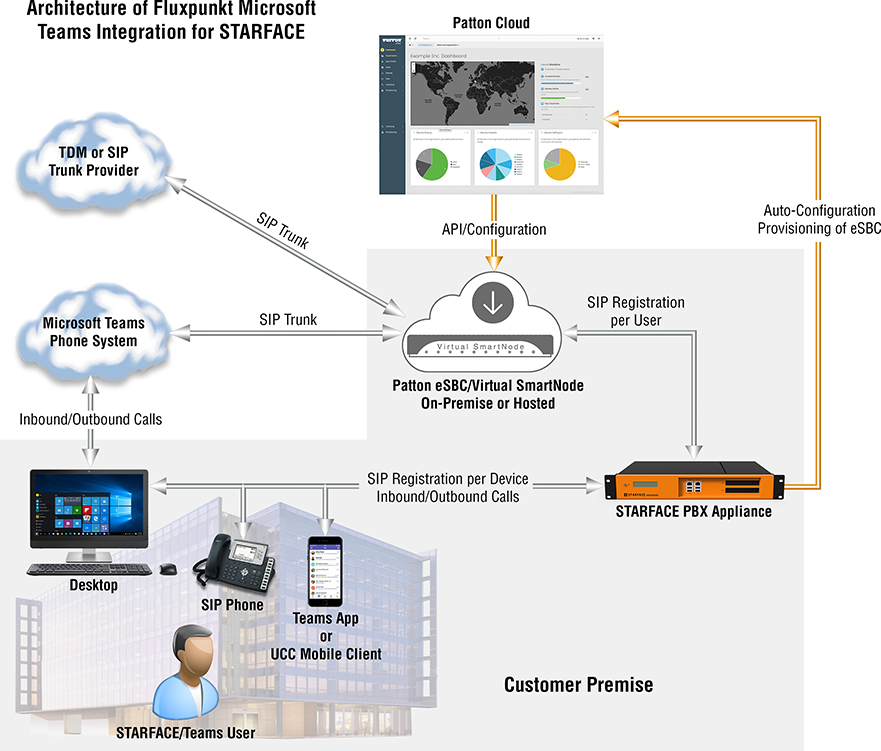 SmartNode eSBCs seamlessly integrate Microsoft Teams with Voice Trunks and STARFACE PBX Telephony ServicesMicrosoft Teams, including the Phone System application, rely on external telephony services– such On-Premise or cloud-based PBX systems and SIP Trunks– to connect and deliver telephone services to the Teams application.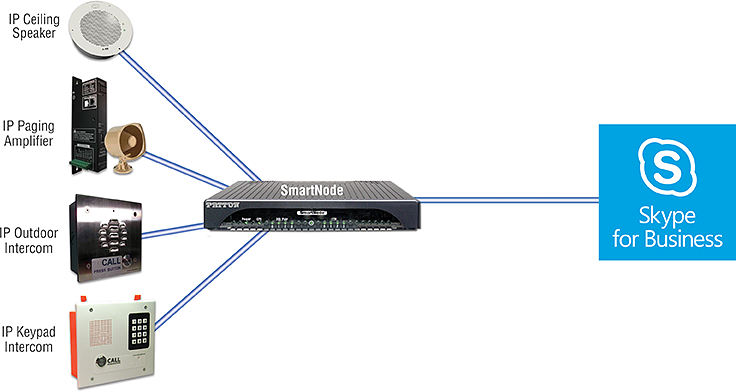 Integrating Analog and Non-Certified IP Paging Systems to Microsoft Skype for Business and TeamsSmartNodes provide a gateway between Skype for Business and Analog and permissible interconnection of non-Certified SIP-based Paging, Intercom & Access Control End-Points.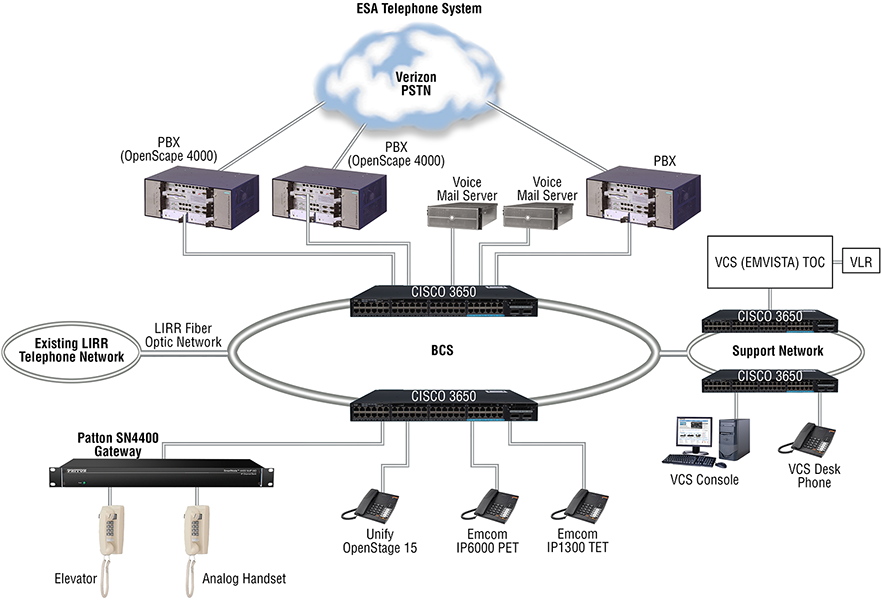 Tunnel-Emergency, Elevator & Service Phones; UC VoIP Connectivity for the World's Largest Transportation Infrastructure ProjectWhen building out the East Side Access project, the NY Metro Transit Authority needed to integrated analog phones in elevators, stations, and service areas into their IP-based telephony network and fiber backbone.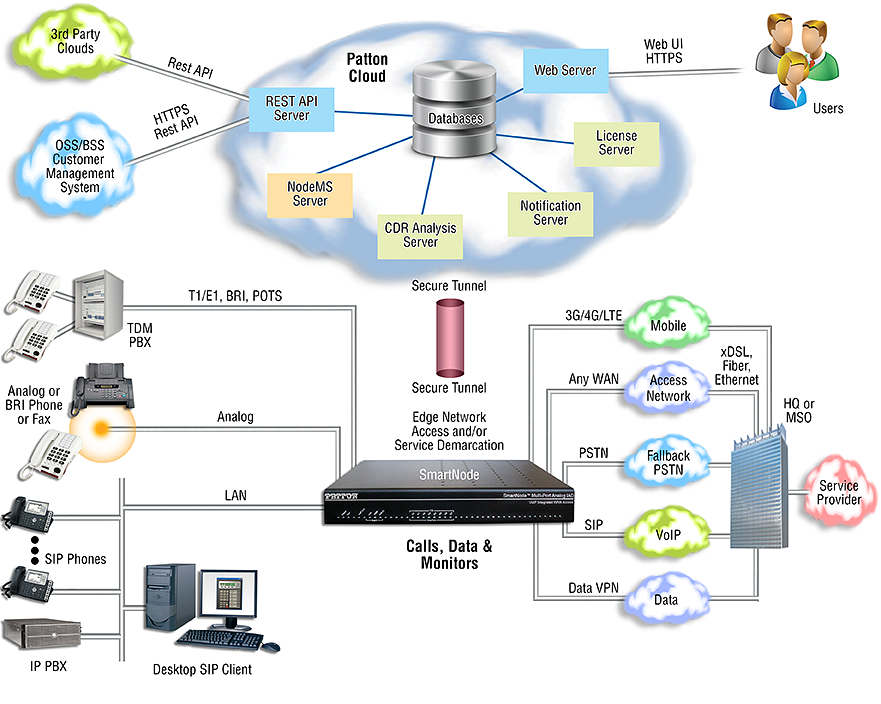 Delivering BroadCloud UCaaS Profitably and Efficiently with the Patton CloudDelivering BroadCloud services profitably means Service Providers must address customer needs with efficient CAPEX and OPEX by controlling service quality, security, reliability, manageability, maintainability, and interoperability at the Edge.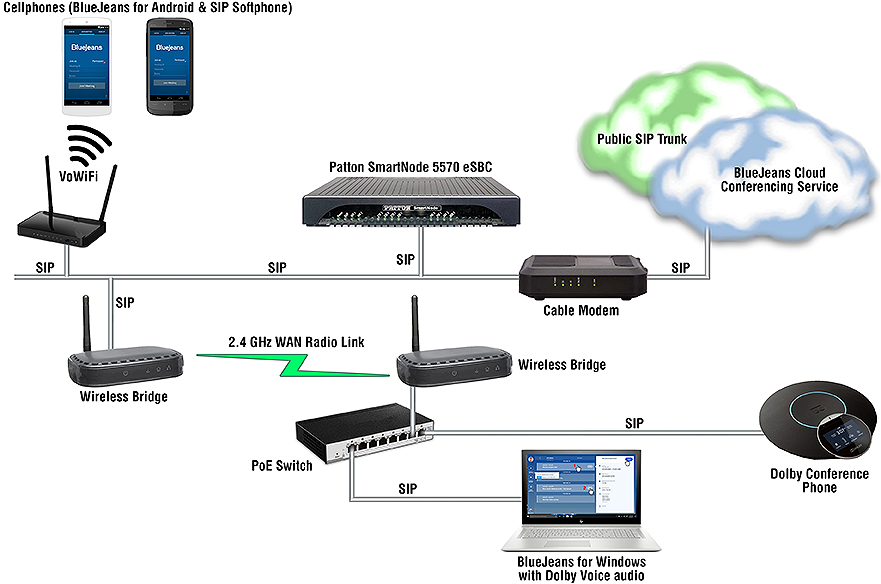 Dolby Pro-Audio Conference Phone with Dolby Voice or ANY PBX or Conferencing ServicePatton SmartNode eSBC enables secure connections to trunks, on-premise PBXs, or hosted call control platforms, as well as Dolby Voice services empowering best-in-class audio conferences.Related Solutions
Trunk Line Migration When Deploying 3CX On-premise as a PBX ReplacementWhen you choose to "break free" and install a Windows-based PBX from 3CX, how do you deal with Trunk lines, Fax machines, and Intercoms?Addressing the Challenges of NBN Migration & Converged Telephony/UC/UCaaS in AustraliaMoving subscribers from TDM to SIP Trunking or UCaaS over the NBN poses significant challenges to providers. Cost, complexity, interoperability, service porting, and user-experience are the key barriers to migration.Avaya Needed a TSG-6 Secure SIP Phone to Support Government Installations in Secure FacilitiesAll electronic devices emit compromising emanations, including IP phones. Avaya needed theirs to satisfy US Government standards for installation in SCIFs.Patton and Lydis: Subscribers in the Netherlands Who Depend on ISDN Trunks Need Not Fear the End of ISDN ServicesAll kinds of ISDN-dependent voice-integrated systems are installed in the Netherlands. The PBX platforms deliver Telephony, Security, Intercoms, Paging, and Emergency Notification. Those systems can't just be forklift upgraded to all IP just because ISDN trunks are End-of-Life in the Netherlands.Connecting DECT Phone Systems to VoIP NetworksPatton SmartNodes use a High Precision Clock to enable DECT Phone Systems to connect to and interoperate with SIP Trunks and VoIP PBX Systems, including on-premise and Cloud-based systems.Rauland Responder 5 Nurse Call Integrated with Vocera Communicator Badges using Hospital TelephonySmartNode VoIP Gateway enables Rauland's Responder 5 and SIP Endpoints to seamlessly integrate with the Vocera Wireless Communicator Badges using Hospital PBX systems.New Virtualized Call Recording for E911 require acquiring and transporting Audio Streams from Diverse Communication Systems911 Call Centers are moving their mandated call recording from integrated audio recording servers to virtualized recorders that rely on gateways to acquire audio streams from diverse platforms; and convert, forward and collect them into cloud-based SIP recording systems.Other Resources
Unified Communications Products
Edge Orchestration Solution