A Public Address System is a collection of microphones, amplifiers, speakers and controllers to facilitate one-way communication with an audience. A PA system may include mixing console to combine and modify multiple input sources. A Paging System is a public address, or loudspeaker system used to make announcements notify or alert people. Paging systems commonly divide or separate buildings or areas into a number of regions, zones, or addressable coverage areas. An Intercom is a system that allows people to communicate point-to-point between different rooms. An Emergency Notification System is a method of delivering one-way broadcast of audio, visual or text-based messages to groups of people to alert them of an emergency. Also referred to as Alerting & Notification Systems, sometimes these systems include flashing lights, loud alarms and/or vibration alarms.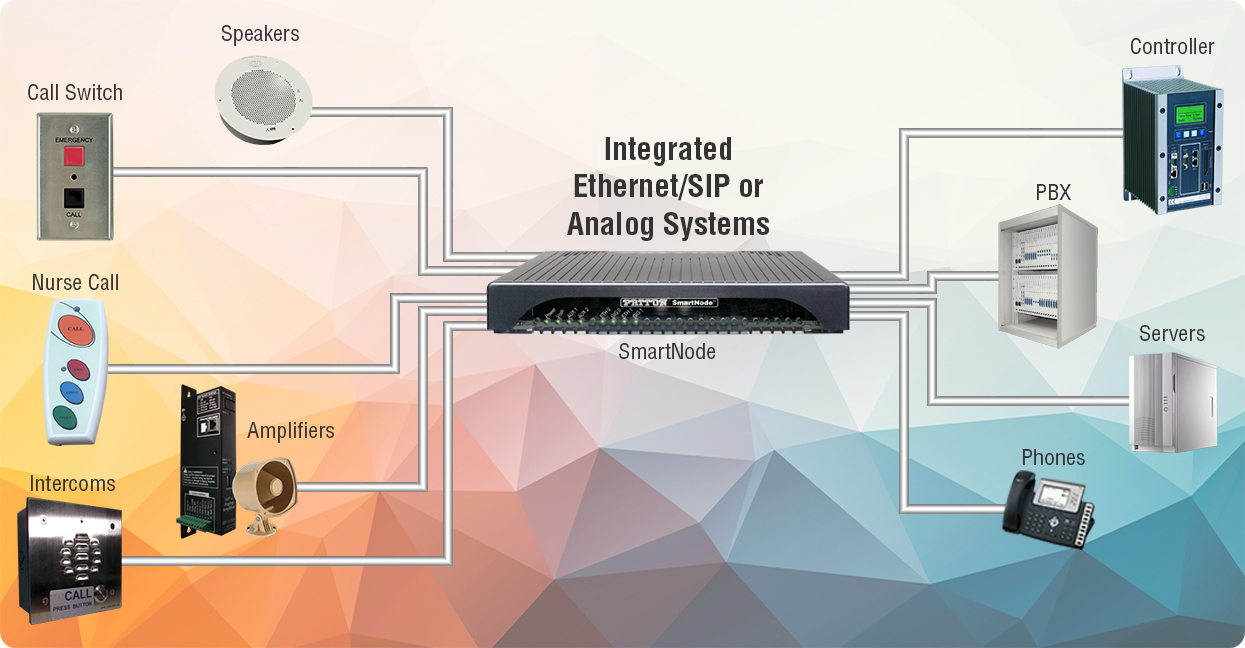 Patton PA, Paging, Notification & Intercom Solutions
SmartNode VoIP products are used to integrated traditional Analog Audio and SIP devices together into a cohesive network.
Speakers, horns, alarms, lights and other end points as well as controllers, consoles, mixers, PBXs and other platforms can be integrated with SIP based IP-PBX or UC systems using the SmartNode products.
CopperLink Ethernet Extender products are used to deliver IP/Ethernet connectivity over traditional twisted pair, coax or other low-voltage cabling. The Copperlink solutions enable modern Ethernet devices, SIP speakers and other end points to reuse pre-existing cabling, previously supporting legacy end-points.
FiberPlex products are used to deliver both Ethernet and traditional Audio such as Mics, 2-wire analog, AES, MADI, AVB, DANTE, CTS and ClearCom over Fiber Infrastructure. The FiberPlex solutions can deliver point-to-point links, add drop links or shared infrastructure services using WDM technology.
Featured Solutions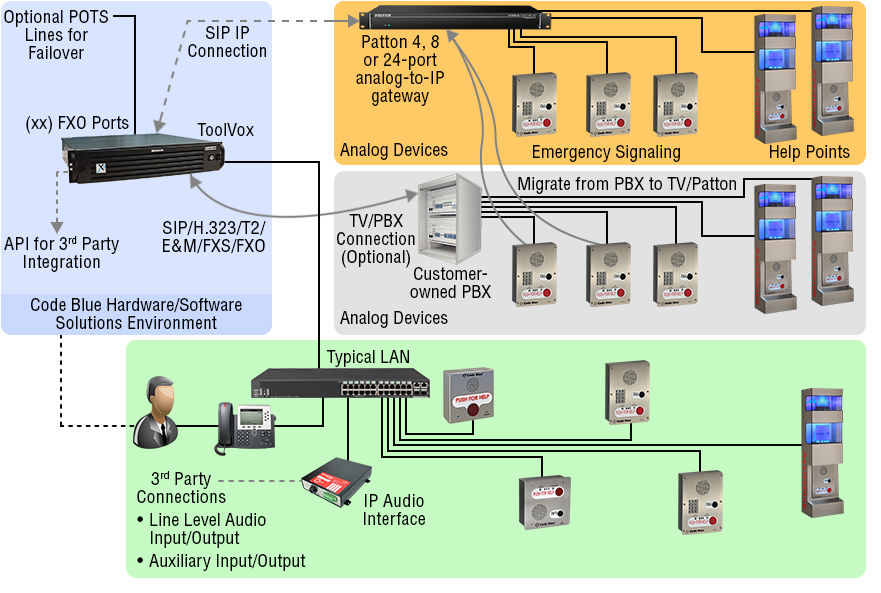 Code Blue: Help Points, Emergency Call Boxes & Alert Systems Migration to VoIP
Code Blue Corporation uses Patton SmartNodes to connect Emergency Signaling and Alerting End Points to its Integrated Emergency Management Platform.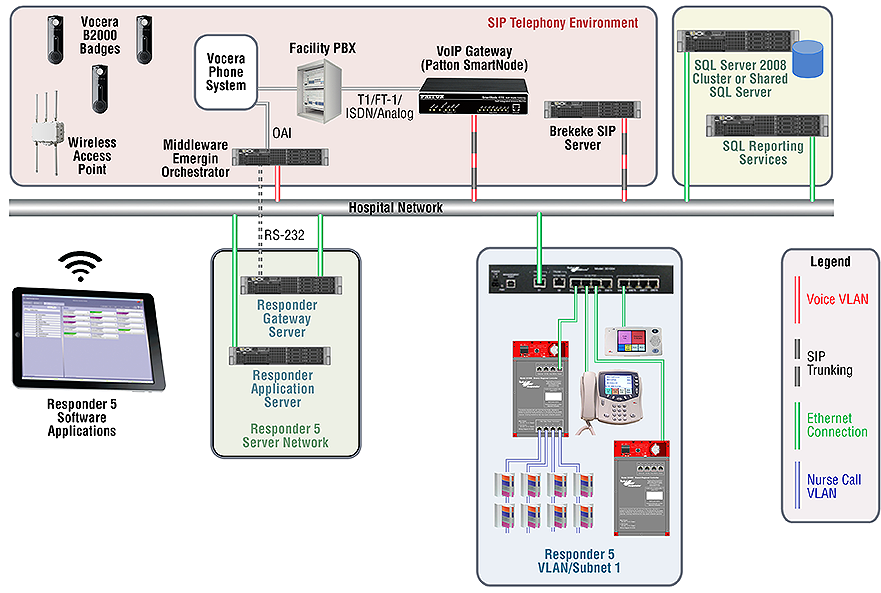 Rauland Responder 5 Nurse Call Integrated with Vocera Communicator Badges using Hospital Telephony
SmartNode VoIP Gateway enables Rauland's Responder 5 and SIP Endpoints to seamlessly integrate with the Vocera Wireless Communicator Badges using Hospital PBX systems.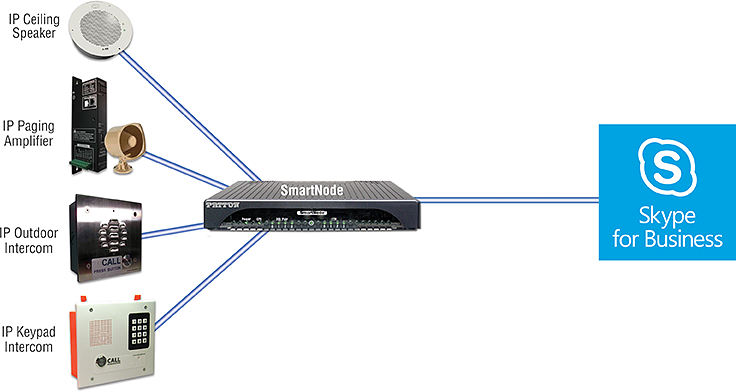 Integrating Analog and Non-Certified IP Paging Systems to Microsoft Skype for Business and Teams
SmartNodes provide a gateway between Skype for Business and Analog and permissible interconnection of non-Certified SIP-based Paging, Intercom & Access Control End-Points.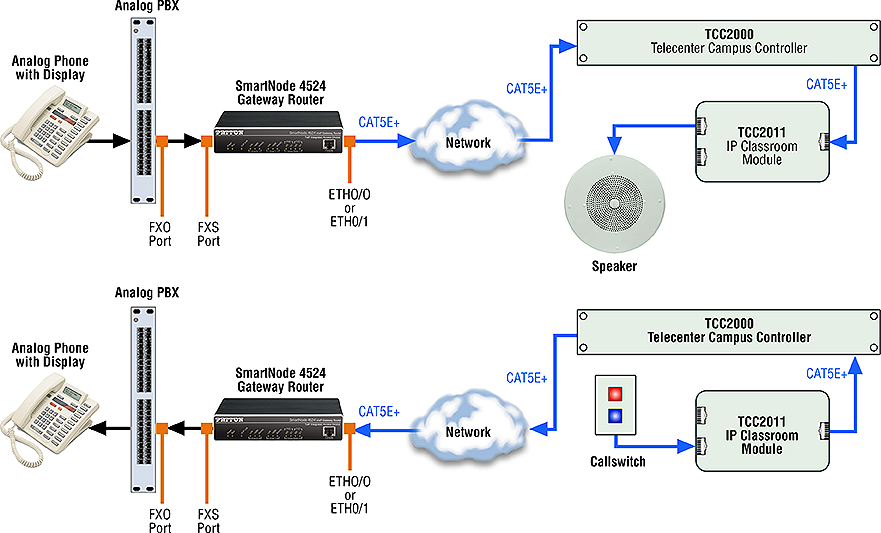 Rauland Ametek: District-Wide Communication, Event Management & Emergency Notification Integrated with Traditional or Hybrid PBX Platforms
Rauland use SmartNodes to integrate PBX platforms into a modern, integrated district-wide Critical Communication system based on SIP.Related Solutions
Connecting DECT Phone Systems to VoIP Networks
Patton SmartNodes use a High Precision Clock to enable DECT Phone Systems to connect to and interoperate with SIP Trunks and VoIP PBX Systems, including on-premise and Cloud-based systems.
Tunnel-Emergency, Elevator & Service Phones; UC VoIP Connectivity for the World's Largest Transportation Infrastructure ProjectWhen building out the East Side Access project, the NY Metro Transit Authority needed to integrated analog phones in elevators, stations, and service areas into their IP-based telephony network and fiber backbone.
ESPN Trucks Connect HD Video on NCAA Facilities; Schools Deploy FiberPlex to Share Fiber Plant.So far, two of 14 elite colleges in the NCAA Southeastern Conference (SEC) Network (University of Kentucky and Vanderbilt University) have performed facility upgrades that included FiberPlex communications gear to transport more content from their venues to the ESPN network.Other Resources

 FiberPlex Connectivity Guide
 VoIP Products
 VoIP Product Guide
 VoIP Gateways