PSTN to All-IP Migration
What is PSTN to All-IP? PSTN to All-IP describes the expected transformation of the telecommunication network where the public-switched-telephone network (PSTN) will ultimately be unplugged and replaced with an all–Internet Protocol (IP) network for delivering voice services.

Patton PSTN to All-IP Migration Solutions
Patton All-IP migration solutions help fixed-line Service Providers move subscribers from legacy TDM networks to all-IP SIP Trunks, Hosted Telephony and UCaaS services easily and efficiently with a high level of customer satisfaction and minimal churn.
Patton's SmartNode CPE devices include a broad range of VoIP Gateways, Edge Routers, Integrated Access Devices and eSBCs performing network and service demarcation/borders and edge services.
Seamless transitions on the subscriber side are addressed by providing on-premise integration with existing phone systems and legacy devices.
Customer objections about mission critical voice services and next generation services are addressed with PSTN failovers, multi-WAN trunk survivability, network function virtualization and IoT service readiness.
SmartNodes together with the Patton Cloud lets Service Providers easily deploy, provision, manage, monitor, secure, alert, troubleshoot, analyze, optimize and re-purposes CPE devices; All while giving business customers control to manage the All-IP transition on-premise in phases.
Featured Solutions

Patton and Lydis: Subscribers in the Netherlands Who Depend on ISDN Trunks Need Not Fear the End of ISDN ServicesAll kinds of ISDN-dependent voice-integrated systems are installed in the Netherlands. The PBX platforms deliver Telephony, Security, Intercoms, Paging, and Emergency Notification. Those systems can't just be forklift upgraded to all IP just because ISDN trunks are End-of-Life in the Netherlands.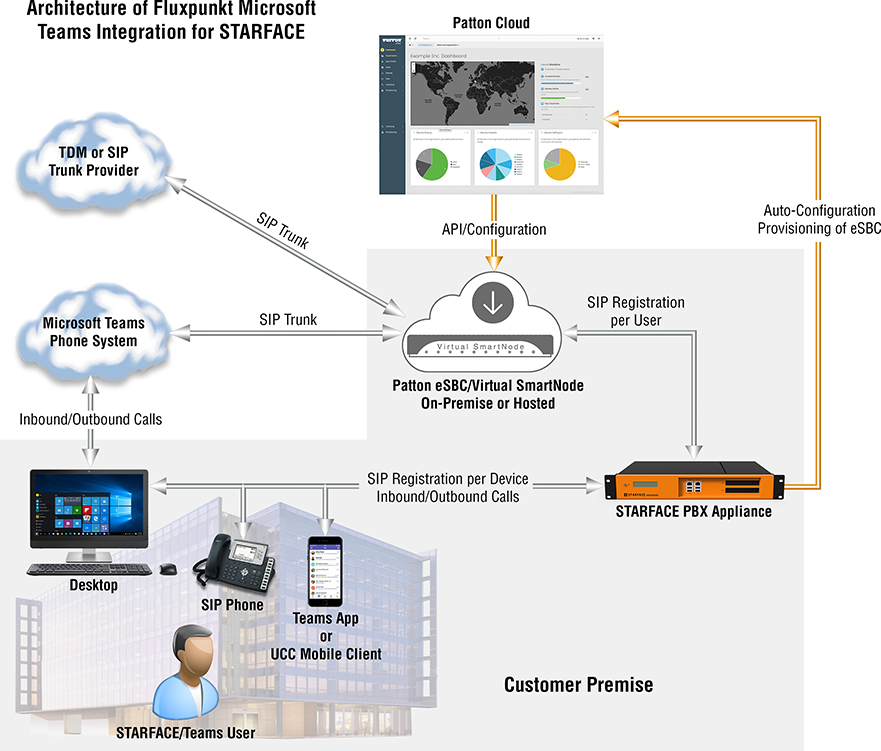 SmartNode eSBCs seamlessly integrate Microsoft Teams with Voice Trunks and STARFACE PBX Telephony ServicesMicrosoft Teams, including the Phone System application, rely on external telephony services– such On-Premise or cloud-based PBX systems and SIP Trunks– to connect and deliver telephone services to the Teams application.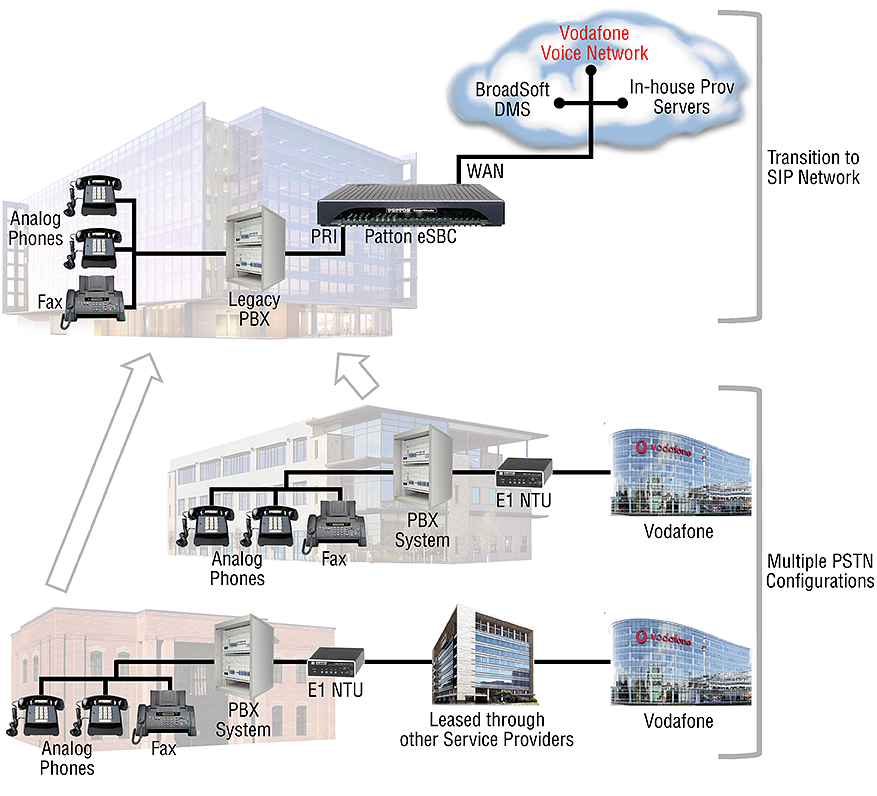 Vodafone: A Phased, Zero-Touch Migration Strategy from ISDN to All-IP VoiceUsing Patton eSBC devices, Vodafone Next Generation Services (VNGS) devised a transition strategy enabling existing on-net and off-net subscribers of Vodafone NZ to migrate at a controlled pace from ISDN to SIP Trunking with automated provisioning and minimal service disruption.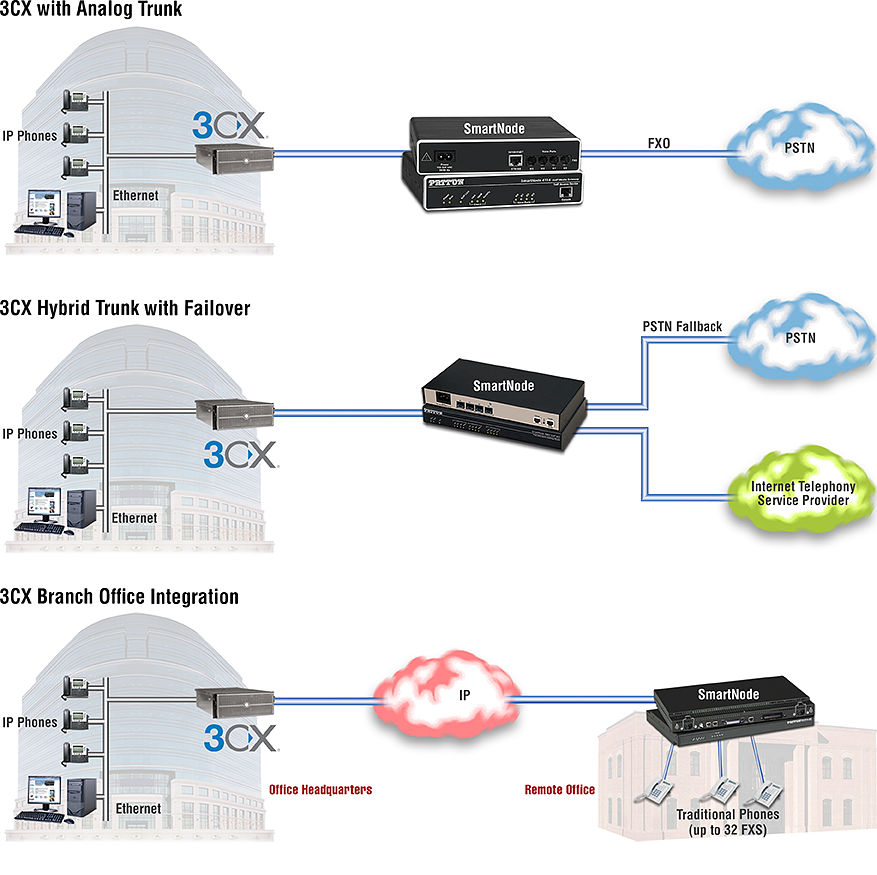 Trunk Line Migration When Deploying 3CX On-premise as a PBX ReplacementWhen you choose to "break free" and install a Windows-based PBX from 3CX, how do you deal with Trunk lines, Fax machines, and Intercoms?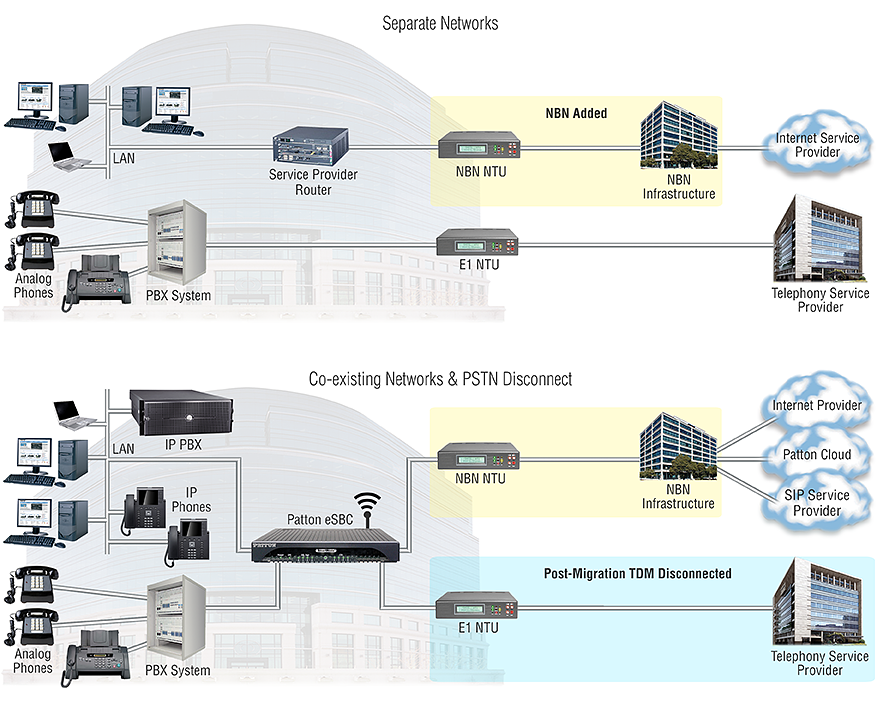 Addressing the Challenges of NBN Migration & Converged Telephony/UC/UCaaS in AustraliaMoving subscribers from TDM to SIP Trunking or UCaaS over the NBN poses significant challenges to providers. Cost, complexity, interoperability, service porting, and user-experience are the key barriers to migration.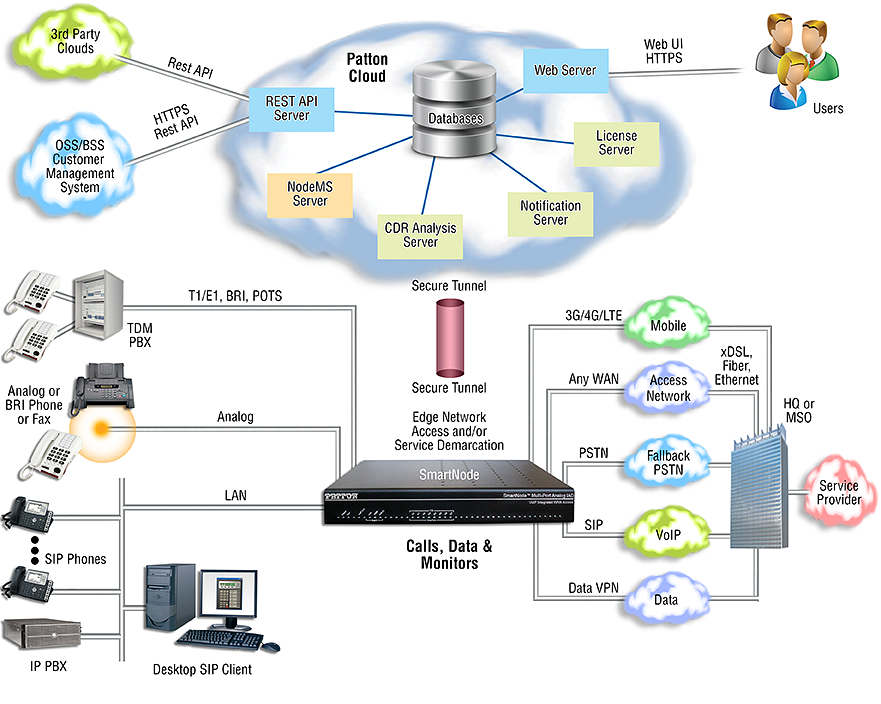 Delivering BroadCloud UCaaS Profitably and Efficiently with the Patton CloudDelivering BroadCloud services profitably means Service Providers must address customer needs with efficient CAPEX and OPEX by controlling service quality, security, reliability, manageability, maintainability, and interoperability at the Edge.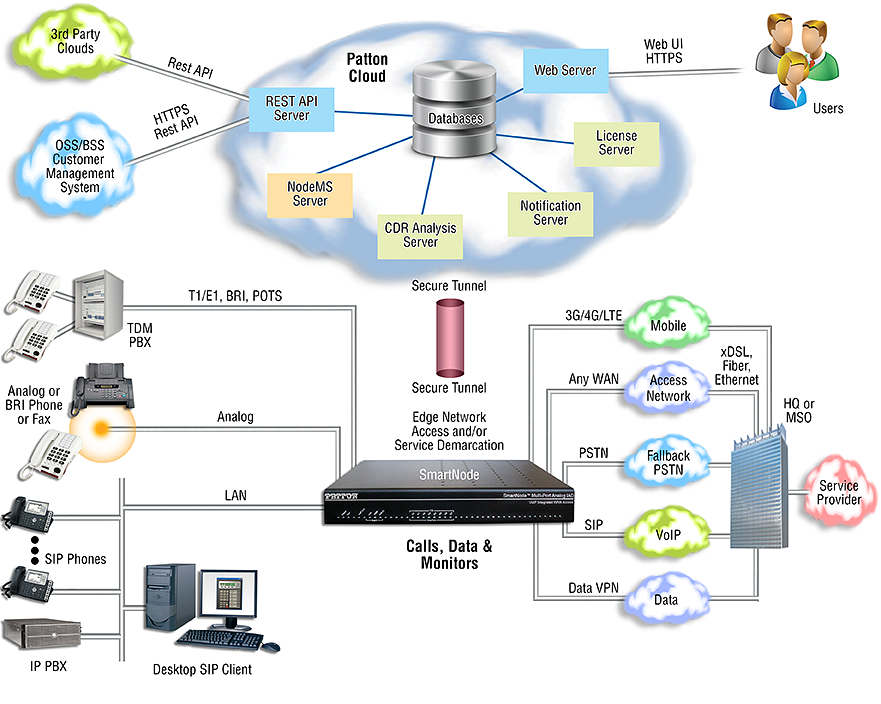 Delivering SIP Trunks Using BroadSoft (now Cisco) Profitably & Efficiently with the Patton CloudWhether via BroadWorks or BroadCloud, delivering SIP Trunks profitably means Service Providers must achieve efficient CAPEX and OPEX by controlling service quality, security, reliability, manageability, maintainability, and interoperability at the Edge.Related Solutions
Avaya Needed a TSG-6 Secure SIP Phone to Support Government Installations in Secure FacilitiesAll electronic devices emit compromising emanations, including IP phones. Avaya needed theirs to satisfy US Government standards for installation in SCIFs.The Scouts Needed Voice and Network Services Where No Service Provider Could Deliver: At a Camp on the Side of a Remote MountainThis Boy Scout camp is isolated 30 miles from the closest town and out of range for cellular or broadband services. Using Patton Ethernet Extenders, VoIP Routers, and Creativity, they were able to build their own solution.Transcoding Solution Delivers Interoperability, Compression & Efficiency for Carrier InterconnectPatton's Transcoding Gateway solution delivers trascodeded calls from TDM-to-IP networks, IP-to-TDM networks, or IP-to-IP networks, and between wire line and wireless networks.Network Operators Need to Manage a Complex Array of Interconnect & Transport SignalingTelecom Providers need efficient solutions to bridge legacy SS7, PRI, VoIP, and NGN, LTE, and IMS networks. They need to modernize their network interconnections while protecting and extending previous investments and maintaining support for legacy services and regulatory requirements.Connecting DECT Phone Systems to VoIP NetworksPatton SmartNodes use a High Precision Clock to enable DECT Phone Systems to connect to and interoperate with SIP Trunks and VoIP PBX Systems, including on-premise and Cloud-based systems.Rauland Responder 5 Nurse Call Integrated with Vocera Communicator Badges using Hospital TelephonySmartNode VoIP Gateway enables Rauland's Responder 5 and SIP Endpoints to seamlessly integrate with the Vocera Wireless Communicator Badges using Hospital PBX systems.Rauland Ametek: District-Wide Communication, Event Management & Emergency Notification Integrated with Traditional or Hybrid PBX PlatformsRauland use SmartNodes to integrate PBX platforms into a modern, integrated district-wide Critical Communication system based on SIP.Pitney Bowes: IoT Infrastructure for Dial-Up Postage Meter ConnectivityWhen AT&T announced the end of their dial-up modem access services, Pitney Bowes needed to figure out how to maintain connectivity to thousands of postage meters with embedded dial-up modems.Code Blue: Help Points, Emergency Call Boxes & Alert Systems Migration to VoIPCode Blue Corporation uses Patton SmartNodes to connect Emergency Signaling and Alerting End Points to its Integrated Emergency Management Platform.Tunnel-Emergency, Elevator & Service Phones; UC VoIP Connectivity for the World's Largest Transportation Infrastructure ProjectWhen building out the East Side Access project, the NY Metro Transit Authority needed to integrated analog phones in elevators, stations, and service areas into their IP-based telephony network and fiber backbone.Integrating Analog and Non-Certified IP Paging Systems to Microsoft Skype for Business and TeamsSmartNodes provide a gateway between Skype for Business and Analog and permissible interconnection of non-Certified SIP-based Paging, Intercom & Access Control End-Points.Addressing the needs of government and law enforcement agencies with surveillance of voice communicationProviding lawful interception is a challenge for communication service providers to meet mandatory legal compliances. Compliance with transnational communication, service interruption, and private network complexity are the key barriers to provide required services.GO Malta uses SmartNodes with the Patton Cloud to deliver SIP Trunks Securely and Efficiently with Low CAPEXGo Malta uses SmartNodes in conjunction with the Patton Cloud to deliver SIP Trunking with unrivaled cost, efficiency, quality, reliability, manageability and security.New Virtualized Call Recording for E911 require acquiring and transporting Audio Streams from Diverse Communication Systems911 Call Centers are moving their mandated call recording from integrated audio recording servers to virtualized recorders that rely on gateways to acquire audio streams from diverse platforms; and convert, forward and collect them into cloud-based SIP recording systems.Other Resources
About Enterprise Session Boarder Control
Unified Communications Products
VoIP Product Guide
Millennial-Generation Converged CPE
Edge Orchestration Solution
Patton Cloud Data Sheet
VoIP Edge Routers