What is a Network Edge Device?
A network edge device is a device which provides a demarcation, entry and management access between an enterprise and service provider network. Network Edge Device functions are often combined or integrated with Customer Premise Equipment (CPE), such as Integrated Services Routers (ISR), Ethernet Access Devices (EAD), Integrated Access Devices (IADs) and Multi-Service Access Routers (MSAR).

What are Network Edge Services?
In the context of real-time communications (RTC), Edge Services refers to Services to manage the complexity, security and operations to meet the business demands and needs of the Service Provider and Subscriber.
What is Edge Orchestration?
Edge Orchestration is a Network Edge Service, leveraging cloud-connect Edge Devices to enable provisioning, configuration, management and monitoring of Edge Devices, Edge Services and Cloud or Web-based services traversing the Network Edge between the Service Provider and Subscriber.
Patton Network Edge Services Solutions
Patton helps service providers to optimize and manage trunking and hosted services and empowers enterprises to transition to new unified cloud based real-time communication technologies.
Patton's Network Edge Orchestration platform enables Providers to quickly and easily scale to meet market demand, reduce capital and operational costs and provide a superior customer experience.
The Patton Cloud enable Service Providers to easily deploy, provision, manage, monitor, secure, alert, troubleshoot, analyze, optimize and re-purposes CPE devices.
SmartNode Edge Devices connected to the Patton Cloud provide automated provisioning and ongoing visibility to voice and data traffic and services. The Patton Cloud delivers configurable real-time notifications, alerts and alarms for remote monitoring, troubleshooting and management, fault isolation and reporting.
The Patton Cloud gives business customers and subscriber's control and self-service options to manage services they receive from providers and assist them in transformation of their network to All-IP.
Featured Solutions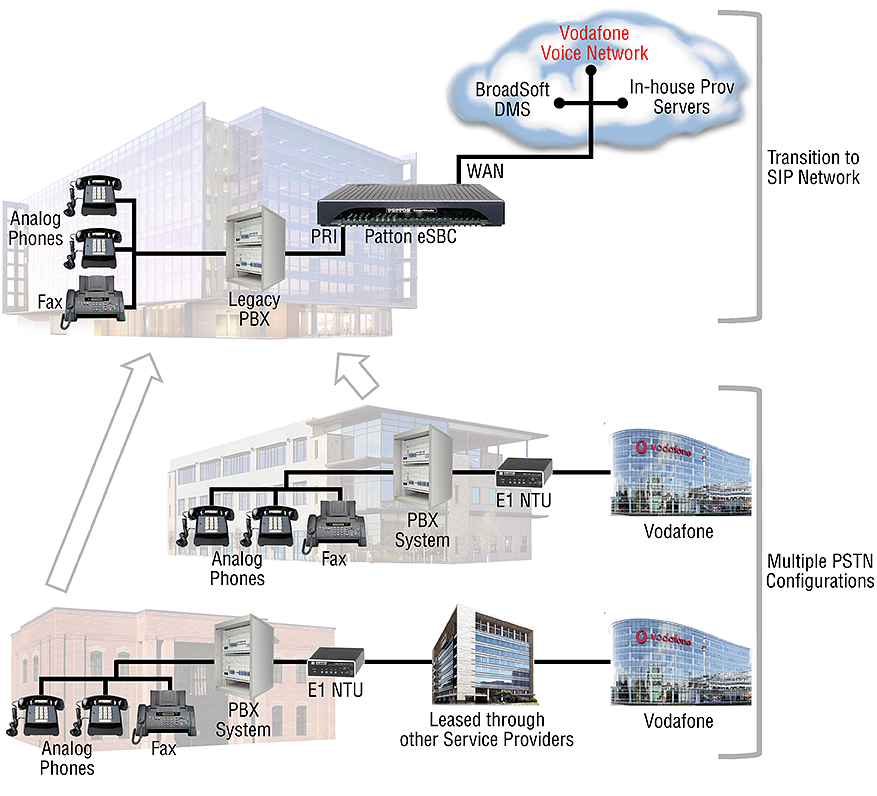 Vodafone: A Phased, Zero-Touch Migration Strategy from ISDN to All-IP Voice
Using Patton eSBC devices, Vodafone Next Generation Services (VNGS) devised a transition strategy enabling existing on-net and off-net subscribers of Vodafone NZ to migrate at a controlled pace from ISDN to SIP Trunking with automated provisioning and minimal service disruption.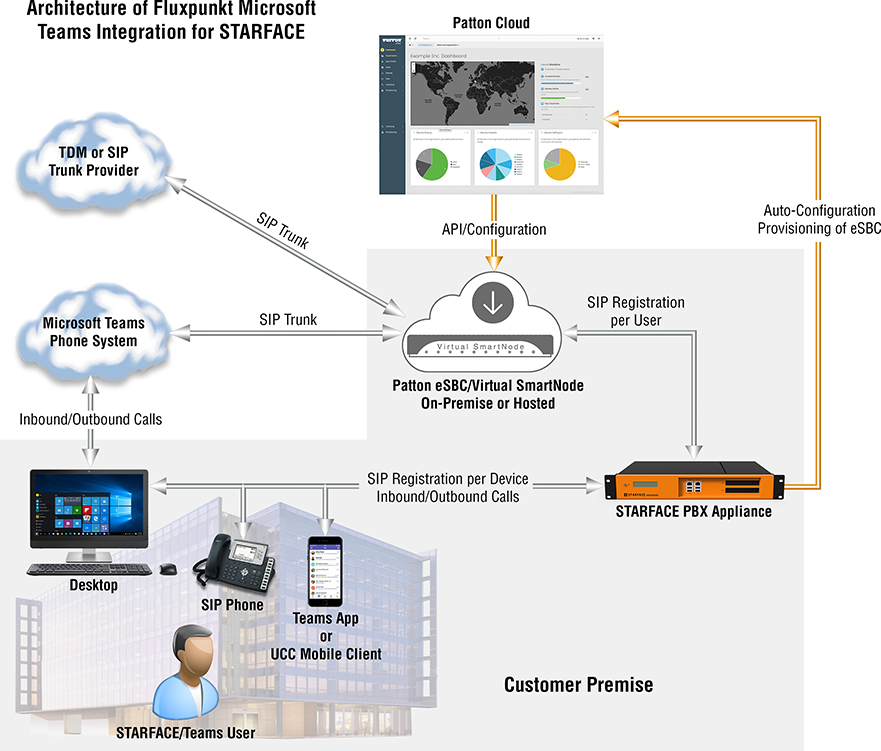 SmartNode eSBCs seamlessly integrate Microsoft Teams with Voice Trunks and STARFACE PBX Telephony Services
Microsoft Teams, including the Phone System application, rely on external telephony services– such On-Premise or cloud-based PBX systems and SIP Trunks– to connect and deliver telephone services to the Teams application.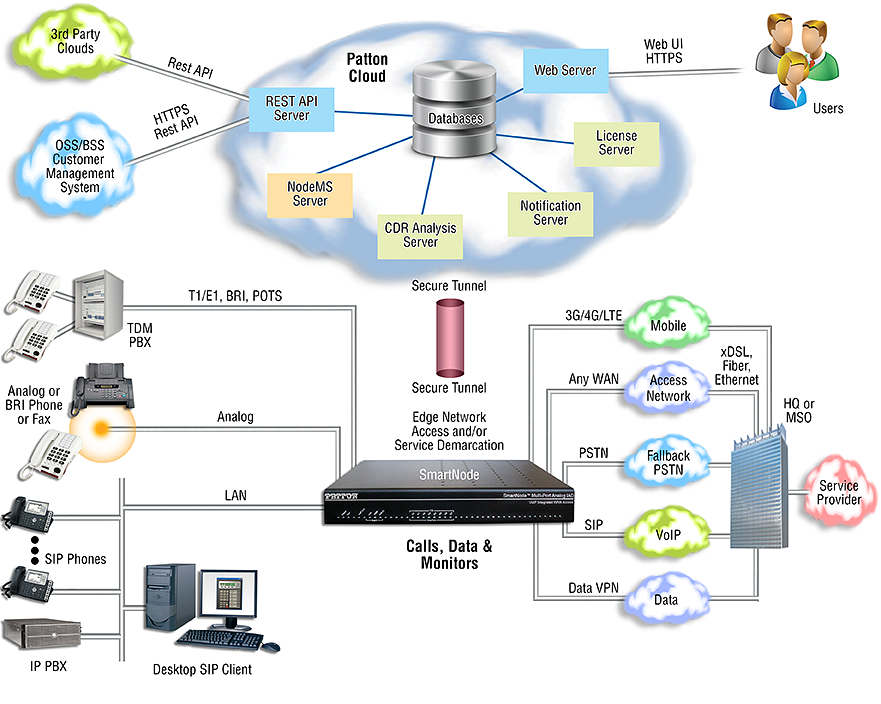 Delivering SIP Trunks Using BroadSoft (now Cisco) Profitably & Efficiently with the Patton Cloud
Whether via BroadWorks or BroadCloud, delivering SIP Trunks profitably means Service Providers must achieve efficient CAPEX and OPEX by controlling service quality, security, reliability, manageability, maintainability, and interoperability at the Edge.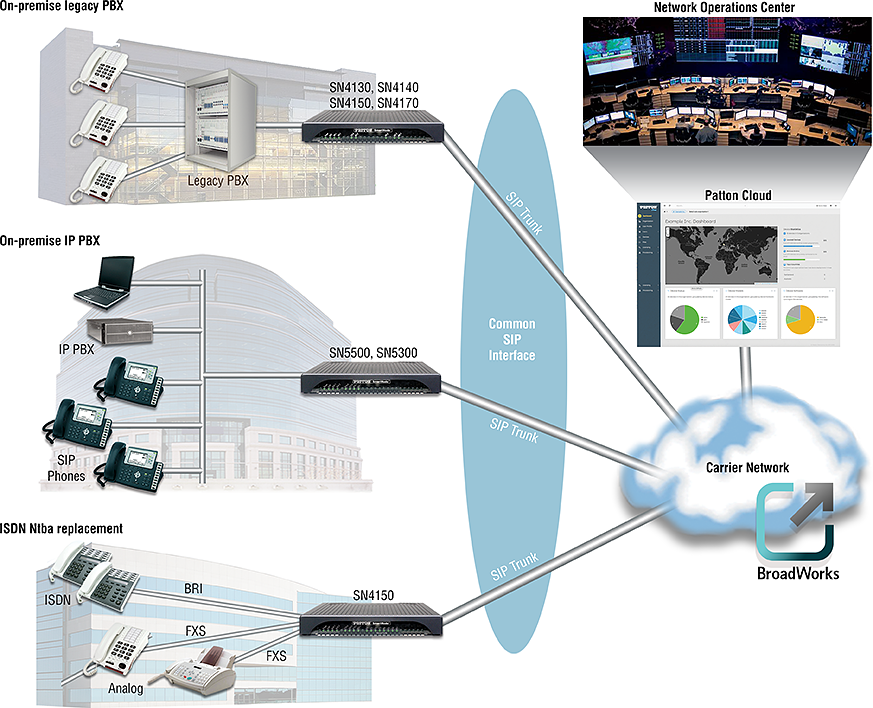 GO Malta uses SmartNodes with the Patton Cloud to deliver SIP Trunks Securely and Efficiently with Low CAPEX
Go Malta uses SmartNodes in conjunction with the Patton Cloud to deliver SIP Trunking with unrivaled cost, efficiency, quality, reliability, manageability and security.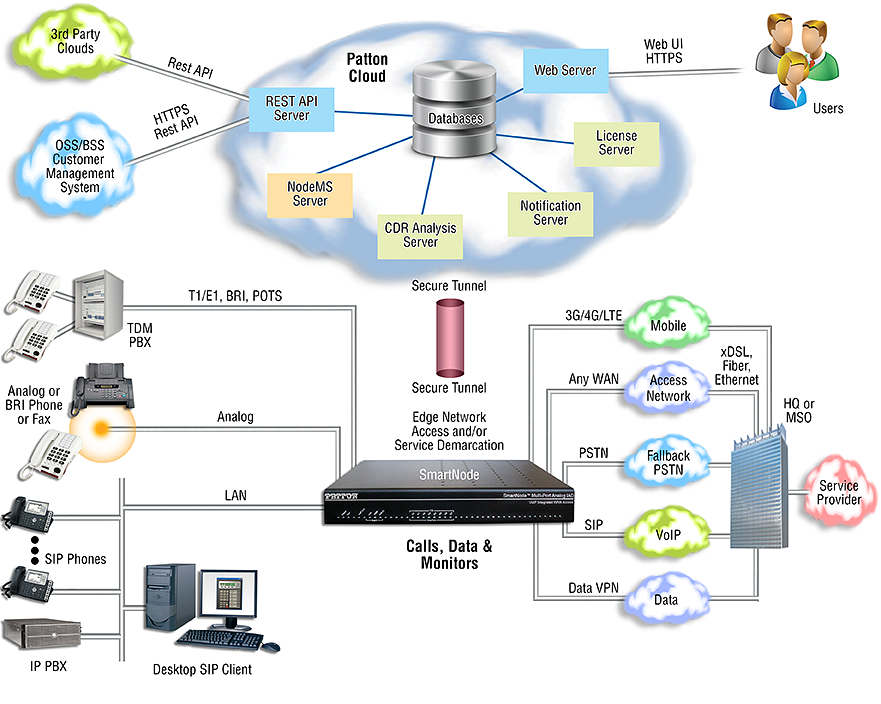 Delivering BroadCloud UCaaS Profitably and Efficiently with the Patton Cloud
Delivering BroadCloud services profitably means Service Providers must address customer needs with efficient CAPEX and OPEX by controlling service quality, security, reliability, manageability, maintainability, and interoperability at the Edge.Related Solutions
Network Operators Need to Manage a Complex Array of Interconnect & Transport Signaling
Telecom Providers need efficient solutions to bridge legacy SS7, PRI, VoIP, and NGN, LTE, and IMS networks. They need to modernize their network interconnections while protecting and extending previous investments and maintaining support for legacy services and regulatory requirements.
Addressing the Challenges of NBN Migration & Converged Telephony/UC/UCaaS in Australia
Moving subscribers from TDM to SIP Trunking or UCaaS over the NBN poses significant challenges to providers. Cost, complexity, interoperability, service porting, and user-experience are the key barriers to migration.
Patton and Lydis: Subscribers in the Netherlands Who Depend on ISDN Trunks Need Not Fear the End of ISDN Services
All kinds of ISDN-dependent voice-integrated systems are installed in the Netherlands. The PBX platforms deliver Telephony, Security, Intercoms, Paging, and Emergency Notification. Those systems can't just be forklift upgraded to all IP just because ISDN trunks are End-of-Life in the Netherlands.
Trunk Line Migration When Deploying 3CX On-premise as a PBX Replacement
When you choose to "break free" and install a Windows-based PBX from 3CX, how do you deal with Trunk lines, Fax machines, and Intercoms?
Digital Signs are Cheap, But Building the Infrastructure & Operating Services for Persistent Network Connectivity to Those Signs is Expensive
Digital transformation can be seen in the proliferation of digital signs. Digital signage will be everywhere, but putting those signs in some locations can be really difficult.
Dolby Pro-Audio Conference Phone with Dolby Voice or ANY PBX or Conferencing Service
Patton SmartNode eSBC enables secure connections to trunks, on-premise PBXs, or hosted call control platforms, as well as Dolby Voice services empowering best-in-class audio conferences.
Pitney Bowes: IoT Infrastructure for Dial-Up Postage Meter Connectivity
When AT&T announced the end of their dial-up modem access services, Pitney Bowes needed to figure out how to maintain connectivity to thousands of postage meters with embedded dial-up modems.
Addressing the needs of government and law enforcement agencies with surveillance of voice communication
Providing lawful interception is a challenge for communication service providers to meet mandatory legal compliances. Compliance with transnational communication, service interruption, and private network complexity are the key barriers to provide required services.Other
Resources
Patton Cloud Data Sheet
Edge Orchestration Solution
Patton Cloud Videos